1527292800
An Evening with Apollo Chamber Players, Vân-Ánh Võ, and Vũ Nhât Tân
Saturday, May. 26, 2018 – Saturday, May. 26, 2018
07:00 PM – 09:00 PM
US/Central
In an exploration of classical and contemporary Vietnamese musical traditions, the Asia Society welcomes to our stage Houston's globally-focused Apollo Chamber Players alongside award-winning musicians Vân-Ánh (Vanessa) Võ and Vũ Nhât Tân. In this illuminating evening, these talented performers and composers will explore the themes emerging in their work through a demonstration of their instruments and an engaging panel discussion.
About the Apollo Chamber Players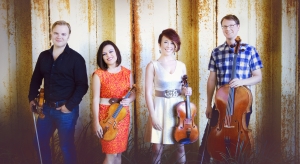 Matthew J. Detrick, violin; Artistic, Executive Director and Founder
Anabel Ramirez, violin
Whitney Bullock, viola; Education Director
Matthew Dudzik, cello
Houston-based Apollo Chamber Players' mission is to explore the cultural and folkloric influences in classical music. The group presents thematically-programmed concerts both regionally and nationally. In September 2014, the organization launched a multi-year commissioning project, 20x2020, with a new work by Grammy® winning composer Libby Larsen, and the ensemble has concertized with acclaimed artists James Dunham, Ivo-Jan van der Werff, Timothy Pitts, Ismail Lumanovski, Viktor Valkov, and Robin Kesselman. Winner of HoustonPress' 2014 MasterMinds award, Apollo was one of three organizations in Houston to be recognized for positively impacting the local arts community. Passionate about arts education, the ensemble curates culturally-enriching programs for performance through Young Audiences of Houston, and it has performed concerts and presented masterclasses for schools and festivals across the country.
About the Artists
Vân-Ánh Võ is one of the finest performers of Vietnamese traditional instruments in the world and a rapidly emerging composer. She dedicates her life to creating music by blending the wonderfully unique sounds of Vietnamese instruments with other music genres, and fusing deeply rooted Vietnamese musical traditions with fresh new structures and compositions. Since settling in the San Francisco Bay Area in 2001, Vân-Ánh has focused on collaborating with musicians across different music genres to create new works, bringing Vietnamese traditional music to a wider audience and preserving her cultural legacy through teaching. Additionally, she has been co-composer and arranger for the Oscar® nominated and Sundance Grand Jury Prize winner for Best Documentary, Daughter from Danang (2002), and the Emmy® Awards winning film and soundtrack for Bolinao 52 (2008). Vân-Ánh recently became the first Vietnamese artist to perform at the White House. In addition to the zither (đàn Tranh), Vân-Ánh also performs as soloist on the monochord (đàn Bầu), the bamboo xylophone (đàn T'rung), traditional drums (trống) and other traditional instruments.
Vũ Nhât Tân is a Vietnamese composer of experimental, chamber, and piano music, as well as electronic and multimedia works that have been performed around the world. Tân studied piano at Vietnam National Academy of Music in Hanoi, where he earned degrees in secondary education in composition and musicology in 1991, as well as a Bachelor of Music in 1995. He later studied computer music and new music at the Staatliche Hochschule für Musik in Cologne in 2000-2001. His honors include Third Prize in the composition for traditional instruments competition of the Vietnam Composers Association in Hanoi in 1992 for Chamber Piece for Traditional Vietnamese Instruments, and First Prize in the Saint-German-en-Laye competition in 1995, for Ky Uc – Memory. His music has been performed in Australia, Cambodia, China, France, Germany, Mongolia, Switzerland, the USA, and Vietnam, including at the Roaring Hoofs Festival in Ulaanbaatar (2000), the Louisiana Festival of Contemporary Music in Baton Rouge (2002), the Totally Huge New Music Festival in Perth (2003), and the Asian Music Festival in Tokyo (2003).
About the Discussion
Major support for Performing Arts programs comes from Nancy C. Allen, Ellen Gritz and Milton Rosenau, the City of Houston through Houston Arts Alliance, and the Anchorage Foundation. Generous funding also provided by AARP, The Clayton Fund, Miller Theatre Advisory Board, New England Foundation for the Arts. Additional support provided by the Wortham Foundation, the Texas Commission on the Arts, and through contributions from the Friends of Asia Society, a premier group of individuals and organizations committed to bringing exceptional programming and exhibitions to Asia Society Texas Center. This program is presented in partnership with Apollo Chamber Players.
HOURS & ADMISSION
Wednesday - Friday, 11:00 am - 6:00 pm
Saturday & Sunday, 10:00 am - 6:00 pm
Closed Monday and Tuesday and major holidays.
Free for Members, $5 Nonmembers
Directions & Parking
Free Parking
Paid Parking
Street Parking
Parking in Asia Society Texas Center's lot is $7 for 1-24 hours. Entrances on Caroline and Austin. Limited free and paid street parking also available.
Special Offers / Dining
Java Lava Cafe
Serving 100 percent premium Kona coffee from KarmaSu Coffee Farm in Hawaii, plus breakfast, lunch, and sweet treats, Java Lava Cafe is open for extended breakfast hours Wednesday–Sunday.
Hours
Wednesday – Friday, 7:30 am – 3 pm
Saturday – Sunday, 9 am – 3 pm
https://asiasociety.org/texas/java-lava-cafe
Events at Asia Society Texas
Within Walking Distance
Join the Houston Museum District
Join our mailing list for sneak peeks to upcoming events and insider information on the best museum district in the world