1551312000
toward a better future: transforming the climate crisis
Thursday, Feb. 28, 2019 – Saturday, Mar. 2, 2019
07:00 PM – 09:00 PM
US/Central
Join the Rothko Chapel and University of St. Thomas for a three day symposium exploring the current climate crisis, its impact on vulnerable communities, and mitigation efforts being implemented locally and nationally.
Given the global interconnectedness of the climate crisis, the symposium will explore how best to move to a zero emission, low carbon economy through the engagement of presenters from religious, Indigenous, public health, energy, government, philanthropic, academic and arts sectors and communities. A central focus will be on individual and institutional actions, practices and policies that must be taken to create a more livable and equitable future.
Opening Keynote Address, Thursday, February 28, 7pm
Somini Sengupta, New York Times Global Climate Reporter and George Polk Award-winning foreign correspondent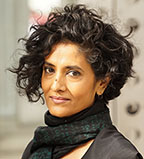 Somini Sengupta, The New York Times's international climate reporter, tells the stories of communities and landscapes most vulnerable to the effects of climate change. A George Polk Award-winning foreign correspondent, she has reported from a Congo River ferry, a Himalayan glacier, the streets of Baghdad and Mumbai and many places in between. As The Times's United Nations correspondent, she reported on global challenges from war to women's rights. Her first book, The End of Karma: Hope and Fury Among India's Young was published in 2016 by W.W. Norton. She grew up in India, Canada and the United States, graduating from the University of California at Berkeley.
Presentations and Panels on Friday, March 1 through Saturday, March 2, including:
Jim Blackburn, Co-director of Severe Storm Prediction, Education, and Evacuation from Disaster (SPEED) Center at Rice University
Mark Boling, Founder and CEO of 2C Energy, LLC
Alejandro Chaoul, Director of The Jung Center's Mind Body Spirit Institute and Director of Education at the Integrative Medicine Program at The University of Texas MD Anderson Cancer Center
Steve Kolmes, Director of the Environmental Studies Program at the University of Portland
Elizabeth Love, Senior Program Officer for the Houston Endowment Health and Environmental Portfolios
Jim Morris, journalist and Interim CEO of the Center for Public Integrity
Eve Mosher, artist and creator of the HighWater Line project
Nick Mullins, a former coal miner from the Appalachia region who is working to bridge a gap between those working in the coal mines and environmentalists
Amy Myers Jaffe, David M. Rubenstein Senior Fellow for Energy and the Environment and Director of the Program on Energy Security and Climate Change at the Council on Foreign Relations
Juan Parras, Executive Director and Founder of Texas Environmental Justice Advocacy Services (t.e.j.a.s.)
Mayor Dale Ross of Georgetown, TX, the largest city in the US to be powered entirely by renewable energy
Umair Shah, Executive Director and Local Health Authority for Harris County Public Health Department
Lise Van Susteren, psychiatrist and mental health advocate focused on psychological effects of climate change
Also offered:
Reception for exhibition of artwork by Maria Cristina Jadick at The Transart Foundation for Art & Anthropology
Film screening of Not Ok and moderated discussion with directors and anthropologists at Rice University, Cymene Howe and Dominic Boyer
Poetry performed by Writers in the Schools (WITS)
Breakfasts, lunches, and evening receptions
More speakers and offerings to be announced. Check back for updates!
Registration Costs:
Through the generous support of underwriters and donors, we are able to offer the full symposium at a rate of $150 (plus processing fees) for general admission. Additional pricing options are available for day passes and select individual sessions.
For more info on student discounts and scholarships, please contact kelly.johnson@rothkochapel.org. Students, please attach a copy of your valid student ID in your correspondence. Please note, these discounted tickets are available on a first-come, first-served basis.
If you are in the position to pay more to help support others to attend, please consider making an additional donation - suggested $25/50/100/150 or another amount that works for you.
HOURS & ADMISSION
Monday-Sunday, 10:00 am - 6:00 pm


Open every day of the year from 10 am - 6 pm.

Free Hours: Always free!

Rothko Chapel is currently closed for renovations.
Directions & Parking
Free Parking
Street Parking
Visitors can use the Menil Collection parking lot located at Mulberry and West Alabama. There is also street parking available on Yupon and Sul Ross. Wheelchair access is located on Sul Ross at the north end of the Chapel.
Events at Rothko Chapel – Temporarily Closed
Within Walking Distance
Join the Houston Museum District
Join our mailing list for sneak peeks to upcoming events and insider information on the best museum district in the world