1572566400
Feast with the Beasts
Friday, Nov. 1, 2019 – Friday, Nov. 1, 2019
07:00 PM – 11:00 PM
US/Central
Get a taste of Houston's best cuisine as you watch animals dine, enjoy beer and wine, and live concert performance by The Suffers!
---
Event Details
The Houston Zoo's 14th annual Feast with the Beasts presented by Bank of America is back! Enjoy cuisine from Houston's best restaurants, beer and wine, and a live concert performance on the H-E-B stage by The Suffers!
The event features spectacular animal experiences throughout the evening, and animal feedings sponsored by Comcast, so guests may watch the animals dine as they get their own taste of Houston's best cuisine.
Friday, November 1, 2019
7:00-11:00 p.m.
BUY TICKETS

Note: Members must be logged in to their account in order to receive their discount. 
Ticket Prices:
$119 General Admission
$109 General Admission for Zoo Members
Each ticket includes two free drinks!
VIP ticket holders can also take advantage of the exclusive Bud Light VIP lounge in the H-E-B Lone Star Pavilion, and are able to enter the event 30 minutes before the general public. Note: VIP tickets are sold out.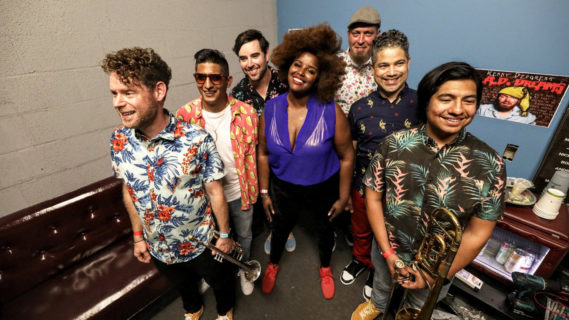 Schedule:
7:00-9:00 p.m. – The Aquarium, Natural Encounters, and Reptile House will be open.
7:30-9:30 p.m. – Giraffe feedings will be available.
8:30 p.m. – Guests can see a live ice carving demo.
See the full schedule for Meet the Keeper Talks, presented by Comcast!
HOURS & ADMISSION
Daylight Savings Time, 9:00 am - 7:00 pm (last admission 6pm)
Central Standard Time, 9:00 am - 6:00 pm (last admission 5pm)
Closed on Thanksgiving and Christmas Day, All hours subject to change - See website for more details
Zoo Lights Times: Daytime 9:00 am - 4:00 pm, Zoo Lights: 5:00 pm - 10:00 pm

Adults 12-64: $19.95 Children 2-11: $15.95 Seniors 65+: $14.95 Children 1 and under are free. | The Houston Zoo offers free admission to guests on the first Tuesday of each month September through May from 12:00 p.m. until closing. Does not apply to June, July and August.
Directions & Parking
Free Parking
Paid Parking
The Houston Zoo does not have its own parking lot; free parking is available in Hermann Park. Please note, parking is limited so consider arriving early or using public transportation.
Special Offers / Dining
Wherever you are in the Houston Zoo, you're never far away from a snack. Cafes, carts and kiosks are located throughout the Zoo and feature items such as burgers, salads, hot dogs, soft pretzels, popcorn, fresh fruit, beverages and more.
Food Trucks
Our chefs are constantly working to provide Zoo guests with exciting new options for refreshments. The latest addition includes themed food trucks with a variety of savory and sweet options. Visit the Masakan truck located near our jaguar habitat for Asian inspired cuisine, and our BBQ Americana trailer for smoked meats and classic sides.
Macaw Café
The perfect place to grab a quick bite as you enter the Zoo, Macaw Café offers a seasonal rotation of market salads and wraps, sandwiches, hamburgers, hot dogs, pizza, fries, and a variety of treats such as parfaits, cookies, trail mix, and fresh fruit.
Herzstein Trading Post
Feeling the need for a sweet treat? Here's your place. Located at the entrance of African Forest, the Trading Post offers Dole Whips as well as a variety of other snacks and treats, including cookies, large pretzels, and popcorn. You'll also find beverages like soda, juice and Saint Arnold beer.
Events at Houston Zoo
Within Walking Distance
Join the Houston Museum District
Join our mailing list for sneak peeks to upcoming events and insider information on the best museum district in the world