1516320000
Breakfast with Australian Ambassador The Honorable Joe Hockey
Friday, Jan. 19, 2018 – Friday, Jan. 19, 2018
07:30 AM – 09:00 AM
US/Central
In collaboration with the Australian Consulate-General Houston
Stemming from a strong military alliance dating back to World War I, where Australian and American troops first fought side by side at the Battle of Hamel, Australia and the United States share a partnership that is unique in its breadth and depth. We share values, economic interests, a strong military alliance, and a genuine cultural affinity, all of which grow with each passing year. In the dynamic and fast-growing political and economic environment in the Indo-Pacific region, Australia is uniquely positioned to work with the United States in addressing shared challenges. Asia Society is pleased to welcome the Australian Ambassador to the United States, the Honorable Joe Hockey, for a breakfast program commemorating the "First 100 Years of Mateship." Ambassador Hockey will share insights on the future of the relationship between the United States and Australia.
About the Speaker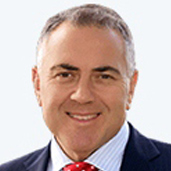 The Honorable Joe Hockey is Australia's Ambassador to the United States of America, taking up his posting in Washington in January 2016. Mr. Hockey has had a long and distinguished career in public service. He first entered Parliament in 1996 as the Member for North Sydney and spent more than seventeen years on the front bench. Mr. Hockey served as a Minister in a number of different portfolios, including Financial Services, Small Business and Tourism, Human Services, and Employment and Workplace Relations. In 2013, Mr. Hockey was appointed Treasurer of the Commonwealth and was responsible for all economic policy including fiscal policy. He served as Chair of the G20 Finance Ministers and Central Bank Governors in 2014 and a member of the leadership troika in 2015. As Treasurer he was a regular delegate to the International Monetary Fund (IMF), the World Bank, the Asian Development Bank, and APEC meetings.
Sponsorship
To sponsor a table, please contact Jenni Rebecca Stephenson, Director of Development, at JStephenson@AsiaSociety.org or 713.496.9909.
The Australian Consulate-General Houston is a sponsor and presenting partner of this program. Additional program support comes from ConocoPhillips, BHP, Australian American Chamber of Commerce Houston, and Trade and Investment Queensland.
HOURS & ADMISSION
Tuesday - Friday, 11:00 am - 6:00 pm
Saturday & Sunday, 10:00 am - 6:00 pm
Closed Mondays and major holidays
$25 Members, $40 Nonmembers. To sponsor a table, contact JStephenson@AsiaSociety.org or 713.496.9909.
Directions & Parking
Free Parking
Paid Parking
Street Parking
Parking in Asia Society Texas Center's lot is $5 for 1-24 hours. Entrances on Caroline and Austin. Limited free and paid street parking also available.
Special Offers / Dining
An India-Inspired Café
Enjoy breakfast and lunch at Pondi! Pondicheri's museum café is open for extended lunch hours Tuesday through Sunday with a vibrant and innovative menu featuring everything from butter chicken to saffron shrimp salad and roti wraps.
Hours
Tuesday – Friday, 11 am – 5 pm
Saturday – Sunday, 10 am – 5 pm
https://asiasociety.org/texas/pondi-asia-society
Events at Asia Society Texas Center
Within Walking Distance
Join the Houston Museum District
Join our mailing list for sneak peeks to upcoming events and insider information on the best museum district in the world